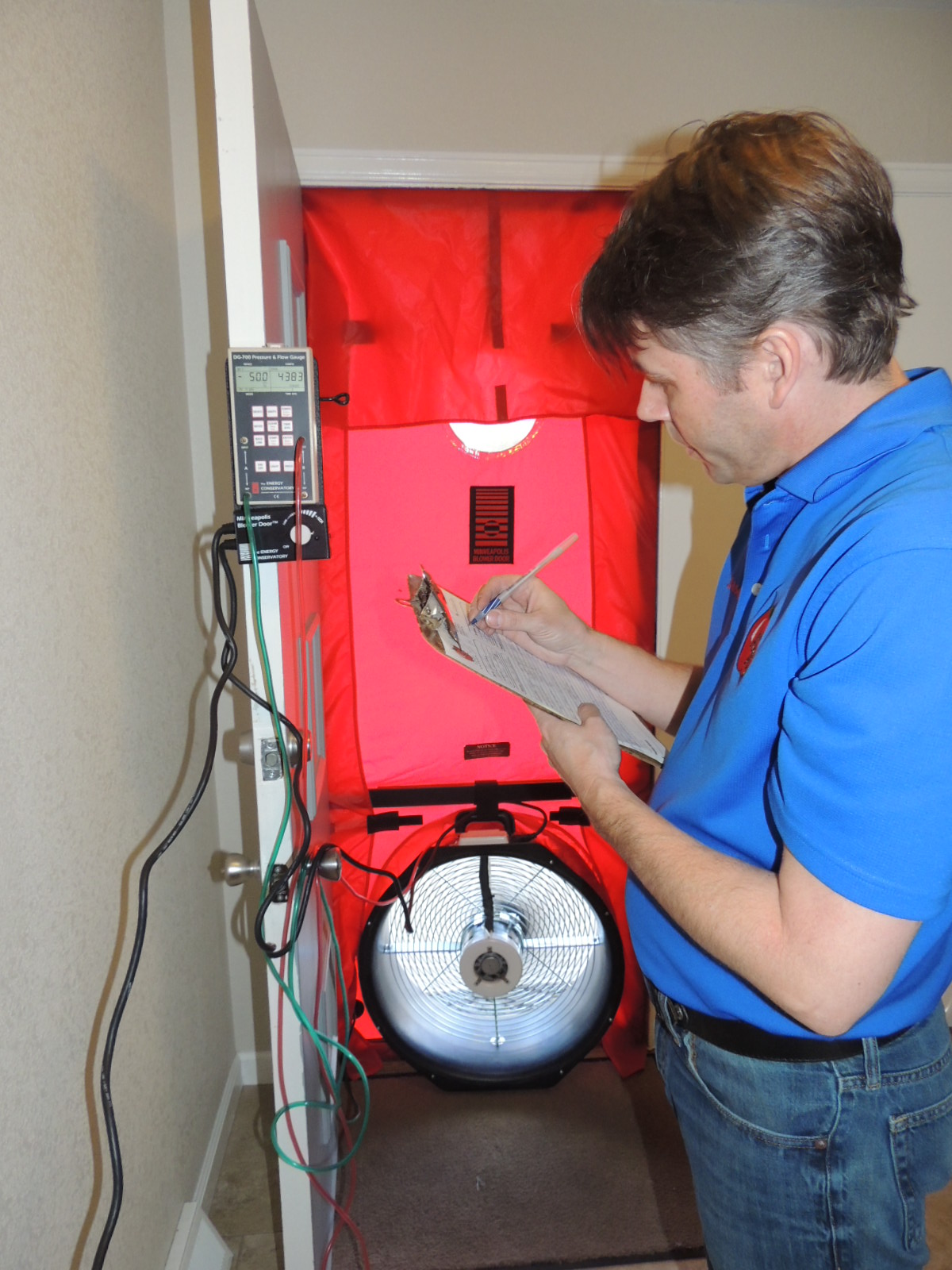 Save Energy by Getting a Home Energy Audit in Colorado
Home Comfort and Energy Evaluation/Energy Audit:
This is where it should all start. As they say, knowledge is power. So, do you know how your home is performing? Where is it losing energy? You should only start a comfort or energy efficiency project after an energy assessment of your home.
Our diagnostic tool looks at your house as a complete system and recommends the best way to improve its efficiency while balancing your budget needs. We perform one of the highest-quality energy audits in the region, which comes with a rebate through the Xcel rebate program (only for Xcel customers).
Our professional home energy audit in Colorado includes a complete top-to-bottom inspection of your home: the attic, walls, doors, windows, HVAC, and foundation.
We also do a full range of safety tests to determine potential issues in performing energy upgrades and to ensure your home is currently safe.
So, what do we do specifically? We perform a blower door pressure test of your home, which tests for potential leaks in the windows, doors, etc. This includes an infrared imaging session that identifies leakage directly in your thermal envelope.
We take all this data and propose how to improve and fix the problems. Believe it or not, there are many things you can repair on your home without hiring a contractor!
After the up to 5-hour inspection, we will compose a comprehensive report (up to 60 pages) which includes a priority list of your energy/comfort upgrades, a section that addresses your individual concerns, and a detailed report on the findings for each potential upgrade you can perform.
This service also includes a review session with your comfort technician, who will review the report to help you understand your next steps and answer any questions honestly and forthrightly.
A home energy audit reviews the current state of a property's energy use and provides recommendations for improvement. It can help identify areas where energy is wasted and potential safety hazards that could be causing increased energy usage.
Explore the Advantages of Having an In-Home Energy Audit
A professional auditor will assess the home's insulation, HVAC system, lighting fixtures, and appliances. Here are some of the benefits of home energy audit services in Colorado:
Save money: An energy audit can help identify areas where homeowners are spending too much on utility bills and make appropriate recommendations for reducing costs.
Improve comfort: An energy audit can help identify areas where comfort levels in the home are low and suggest solutions. These may include adding insulation, sealing air leaks, or upgrading inefficient HVAC systems.
Increase home value: Potential buyers of a home may consider its energy efficiency when deciding to make an offer. An energy audit can help identify areas where you can improve your home's value.
What to Expect
At AeroSeal Colorado, we start every audit with a detailed walkthrough inspection. Our energy auditors will inspect the entire home for air leaks and insulation issues, then use specialized infrared equipment to measure air pressure and temperatures throughout the house.
We'll also inspect windows, doors, lighting fixtures, HVAC, and other appliances. After the inspection, we will give you a detailed report of our findings and recommendations.
Frequently Asked Questions
What is an energy audit?
An energy audit thoroughly examines your entire home, from the attic to the crawlspace or basement. Our experienced auditors use specialized diagnostic tools to detect and measure air leakage, allowing them to identify areas of concern accurately. The audit includes an infrared scan, which provides detailed images of problem areas requiring attention.
Once the auditor has gathered all the necessary information, they will input it into a software program and generate a detailed, easy-to-understand report. The auditor may then discuss their findings with you and address your concerns. They will also advise you on any necessary upgrades that will help you to make your home more energy-efficient and comfortable.
Who needs an energy audit?
Homeowners who want to prioritize efficiency, comfort, and health are encouraged to get an energy-saving home evaluation service. This can identify sources of discomfort, reduce energy bills, and uncover potential hazards like gas leaks or carbon monoxide.
How long does an energy audit take?
The duration of an energy audit generally ranges from two to four hours, depending on the size and complexity of your home. However, the timeline can vary based on your level of involvement. Keep in mind that the energy auditor is there to educate you about your home's systems, so don't hesitate to ask questions. They can provide valuable insights to help you better understand how to maintain an efficient and healthy living space.